Just popping in to share a few fun creations from my daughters! They both wanted me to share them on my blog!
A couple days ago, I realized how quickly the summer was passing by, and even though we homeschool and I get to spend lots of time with them, it's not very often that I just spend time doing whatever they want! So I promised them each an hour of my time to do whatever crafty thing they wanted, and that they could dig into my supplies and use them too. They were ECSTATIC! I can tell I need to do that more often! So, my 10 year old daughter made a card (I'll share that another day!) and a scrapbook layout for her own little scrapbook, then she wanted me to stamp this Phyllis Harris image on watercolor paper so she could paint it with her watercolors:
My almost 9 year old started off with some rock creations, set them aside to dry and wanted to watercolor like her sister - and then had so much fun with it, that she decided to do another one! Here are both of her creations:
I am also linking these second two up for my youngest to the
Simon Says - Kids Challenge
. I will link my oldest daughter's other project up at a later time! :-)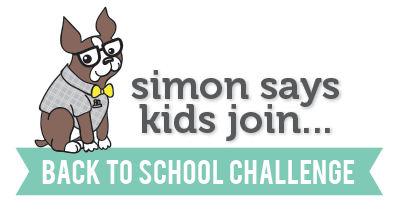 Thanks for stopping by! I'll be sure to pass on any comments to them as well!