Good Friday morning! Can you believe it is the last Friday of January already?!?!? Wow...how the time does fly! After getting used to Wyoming (SUPER COLD) winters, it has been strange to be having such a mild winter back here in Washington state. It has rained quite a bit (no surprise there!) - but has been surprisingly warm. So...with us back in the rain state, I absolutely ADORED this image in the new
January Kit of the Month from Unity
- LOVE LOVE LOVE it! Just knew I needed to make something with it! So, here is my card for this week's
Unity Friends with Flair
:
I am also linking this up with the current
Curtain Call Challenge
(for the colors, and also for the winter accessory of choice - I used scarves in Wyoming, an umbrella would be more fitting here in Washington!):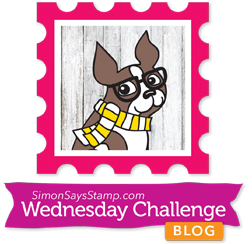 I will probably use this image again with watercolor (because that seemed like the perfect fit!) - but it had been a while since I had pulled out my Copics and done some coloring, so I started there. I did it in a very sporadic and artsy style - not fully coloring the image, but leaving the colors a little blotchy on purpose. Added some Glossy Accents, selectively applied to give it a wet look, and used some distress ink on the edges to blend the white cardstock in better with my Crate Paper pattern paper. Added a line of machine stitching, a doily, and a sentiment from an older
KOTM - December 2012
.
Thanks for stopping by today! Hope you have a wonderful weekend!