Good evening!!! So - this little blog is celebrating FIVE years this month - on October 20th!!! I can hardly believe it has been that long, and yet in some ways I don't remember not doing this. I have been SOOOO incredibly blessed by all the amazing people I have met through this hobby - and so incredibly lucky to work with some AMAZING products and companies. To celebrate I have lined up TONS of giveaways from some of these amazing places. HUGE thanks to each of them for their generous donations of prizes - I'm super excited to be able to share them with you!
Tonight's giveaway is a fun little company called
Avocado Arts
! Michelle, the owner of
Avocado Arts
has agreed to put together some stamps to send to tonight's winner! Woohoo! I have been on the Avocado Arts Design Team for nearly 2 years - and always love seeing each month's new cute and whimsical stamps show up for me to play with! Each set is always planned to fit the season or time of the year - and lots of fun possibilities!
Tonight's card uses some of the adorable smaller images from the most recent stamp set -
Built a Wreath
.
I stamped the leaves and acorns on watercolor paper with Versamark ink, and then did some random, messy watercolors over the top. Added some splatters with the leftover watercolors, then heat embossed my sentiment on a strip of black cardstock, adhered with foam adhesive, and finished off with some jute twine.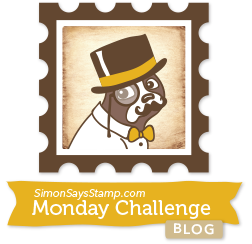 You can enter the giveaway below using Rafflecopter - this is my first time using this method for a giveaway, but since I have so many to do this month I thought it might help make it easier! So - if there are any bumps along the way, please forgive me as I figure them out?
All giveaways will stay open until the 20th (the official birthday date!) and I will announce all winners that day! If you already follow on Pinterest, Youtube, or Facebook - feel free to leave your name for each day of giveaways, no need to be a new follower only!
Have a wonderful day - and good luck!