Good morning again! I was SOOO excited the other day to finally get my hands on this ADORABLE stamp set from Tim Holtz - called
Bird Crazy
. I have been seeing them pop up everywhere in my news feed on cards! So the day they arrived, I quickly sat down to color one up, and play along with a couple of challenges:
I used my color inspiration from this month's
Eyelet Outlet Color Challenge
(if you haven't played along, I know there haven't been very many entries - and the prize is a fun package of Eyelet Outlet goodies, so you're odds of winning are pretty good! You don't even have to use any Eyelet Outlet product to play along - so what are you waiting for?)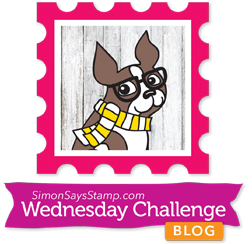 Thanks for stopping by! Have a wonderful day today!